In the unbearable heat of Melbourne's summer, your home can still be a cool haven without having to cost you an arm and leg in energy bills. A split system air conditioner is a popular and cost effective way of warding away the 40 degree days, and WeatherWorld can expertly install one of the many systems in our broad range of leading brands.

What is a split system air conditioner?
A split system air conditioning unit is one you've likely seen before, as it is one of the most common types. It is set up so that half of the unit is placed outside, while the other half is installed inside your home and provides all that lovely cool air.
WeatherWorld provides 5 different types according to your specific needs, and can help you in choosing the right one:
Wall mounted: The most commonly used system, this involves a unit being mounted to the top of the wall closest to the ceiling
Bulkhead: When wall space is limited or a property has concrete ceilings, a bulkhead unit may be used instead
Ceiling cassette: Rather than being mounted on the wall, a ceiling cassette is fitted into the ceiling. Ideal for properties with very limited (or no) wall space)
Console: This unit can either be installed on the floor or the ceiling, and is typically most appropriate for commercial buildings as it has a high airflow
Floor standing: These units are incredibly compact and sit on the floor, perfect for spaces without much room at all
Get a quote on split system pricing from WeatherWorld today
Utilising more than 30 years of experience, plus our certification as a Seeley Climate Master, WeatherWorld can provide the best advice, products, and installation services for your split system air conditioning unit. We also offer one of the biggest ranges available in Melbourne, with leading brands that you won't find with many of our competitors including Daikin, Mitsubishi Electric, Fujitsu, Panasonic, LG, Samsung, Toshiba, Carrier, and Lennox.
How do split systems work?
Split system air conditioning systems gained their name due to the system literally being split. One half is located outside your home (condenser) and the other half (indoor unit) is located in the room you're targeting.
When a split system set to cool, the warm air within your home is vacuumed into the fan coil and removed from your home. This results in a constant circulation of cool air flowing back into your home. When set to heat or reverse cycle, the heat pump operates in reverse of the cooling method, which provides a constant circulation of warm air for those cold days.
The beauty of a Split System is that it allows for an individual temperature control, usually paired with a remote, making your experience as seamless as possible.
Why choose split system air conditioning?
Easy installation process: One of the more straight forward air conditioning installations, split systems can be up and running the same day that they are installed.
Quiet Operation: When you're at home you don't want to be annoyed by a loud air conditioner running, thankfully split systems operate quietly and efficiently.
Stylish and modern: With many split systems holding a stylish and modern design, they will not make your home look dated and can blend in with your home decor.
Dual heating and cooling solutions: Providing an effective climate control where installed, split systems provide both heating and cooling solutions, meaning they will keep you comfortable all year long.
Easy to control room climate: With an included controller for all split systems, your rooms climate will be easy to control with the simple push of a button.
Contact WeatherWorld today and we'll get back to you within 24-48 business hours with a quote. Our team can provide comprehensive assistance when it comes to selecting the right split system air conditioning unit for your Melbourne home!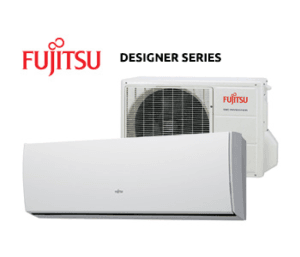 The Fujitsu Designer Series boasts a modern and sleek appearance. All Designer models include human sensor control technology which detects movements of occupants in a room and determines the temperature accordingly, providing optimum efficiency. The controller paired with Designer Series models are kept simple but intuitive which provide complete control at the touch of a button.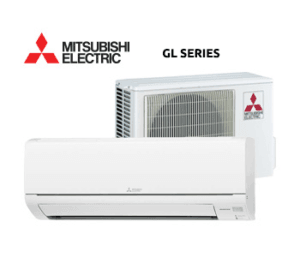 The Mitsubishi's GL series split systems have been designed to operate quietly and efficient on electricity, this allow better energy savings when compared with many alternative traditional air conditioning models. The quick clean design on Mitsubishi GL Series split systems enable an efficient internal cleaning process by removing the front panel and airflow vents. The Mitsubishi GL Series split system comes with a controller that provides an easy to read display with a 24 hour timer and easy to use functions.
To find out what the best split system air conditioning unit for you is; contact WeatherWorld today. Or if you are ready to get a quote on installation cost, simply fill out our quick quote form and we will be in touch with you as soon as possible. Our team of air conditioning experts can provide comprehensive assistance when it comes to selecting the right split system air conditioning unit for your Melbourne home!