Get a price on an evaporative cooler today!
WeatherWorld expertly installs ducted evaporative cooling systems in properties around Melbourne, and has been doing for more than 30 years. This is an increasingly popular method for keeping homes cool against the harsh, soaring temperatures of summer, while it maintains as one of the most affordable and natural methods of cooling.

Evaporative cooling benefits
Fresh air: evaporative cooling works by drawing in air and utilising water to lower its temperature. The hotter the air, the better it works. The advantage of this is that you're continually breathing in natural, fresh air, without it being stale and hot like it is outside
Affordable: evaporative coolers are one of the most cost effective methods of ducted air conditioning available – up to 8 times cheaper than refrigerated cooling.
Environmentally sound: thanks to the fact that evaporative air conditioners use water, rather than using refrigerant gasses that can be harmful to the environment
How does evaporative cooling work?
A ducted evaporative cooling unit is positioned on a roof, with duct work in your ceiling, it is linked to multiple vents or outlets which are distributed throughout your home. Evaporative Cooling works by sucking in air from outside your home and using the water within the air to create cool air.
Ducted evaporative units need to be placed on the roof so they can draw in a significant amount of fresh air from outside your home. As air flows through the filter pads (inside the unit on your roof), it becomes cooler and then is distributed to every room where a vent or outlet is located in. The cooling effect actually works better with hotter air surprisingly.
When an Evaporative Cooler is operating, all the air within your home is recycled every few minutes.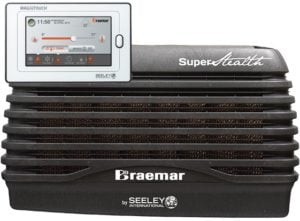 Braemar – Super Stealth
Enjoy the world's very first high performance inverter axial evaporative cooler, paired with an unmatched cooling capacity and pocket saving energy efficiency, this ultra quiet evaporative cooling unit could save you upto $346 each year when totalling the running costs. Every Braemar Super Stealth also comes standard with a MagiQ touch controller, giving you the power of this powerful evaporative cooling system right at your fingertips with easy to use functions.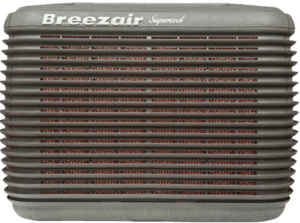 Breezair – Supercool
If you're looking for a powerful evaporative cooling system then look no further than the Breezair Supercool series! Providing an incredible 15% greater cooling effectiveness over the standard Breezair Icon range, this evaporative cooling system will keep your home cool through the harshest summers and save you money at the same time due to its phenomenal economical operation. Paired with a MaqiQ controller, the Breezair Supercool range is easy to use and the perfect whole home cooling solution for your home.

Call on WeatherWorld for your ducted evaporative cooling needs
WeatherWorld strives to maintain competitive evaporative cooling prices while also providing only the best brands on the market. As a Seeley Climate Master, we are able to exclusively offer products that other competitors can't, including manufacturer warranties up to 7 years on selected evaporative air conditioners.
We also have access to some of the world's leading evaporative cooler brands right here in Melbourne that you won't find everywhere, including: Breezair, Braemar, Coolair, Bonaire, and Brivis.
Contact the team at WeatherWorld today and we'll provide you with a comprehensive quote within 24-48 business hours. Our expert and friendly team will be able to help you find the perfect solution to keeping your Melbourne home comfortable, whether it's evaporative cooling or another air conditioning method.