Melbourne's weather is known for being predictably unpredictable, but one thing is always for certain; it gets cold. Making sure your property stays nice and warm through the winter (and other cold months!) can seem like a pricey pursuit, which is why the cost efficient and effective method of ducted gas heating is so popular.

Benefits of ducted gas heating:
Highly efficient and economical, utilising a combination of zoning systems throughout your house so you can choose which areas to heat during the day/night
Incredibly versatile, with endless options that include underfloor heating, ceiling systems and more, so you can find the ideal solution for you
Requires little maintenance, ensuring further savings to your back pocket
Uses natural gas or liquefied petroleum gas (LPG), an economically sound choice
How does ducted gas heating work?
Ducted gas heating systems work through cold air flowing over something called a heat exchanger. This warms the cool air through a gas combustion system and then by using a system of ducts and vents, the gas ducted heating system then pushes the warm air throughout the house, exiting from each vent.
Vents (otherwise known as outlets) in your house can be located and installed in either the ceiling, wall or floors. Installing vents in the ceiling is the most popular method. The most effective method is to place vents so they're around the edge of your home, this provides an even level of heat distribution through your home, keeping your family comfortable through the cold winter days.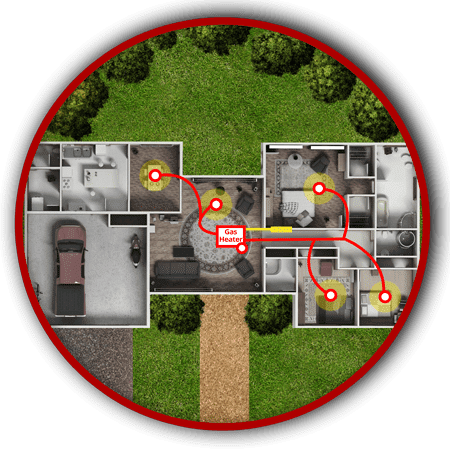 Why choose WeatherWorld?
If you're looking for a gas ducted heating system, you've come to the right place! WeatherWorld has more than 30 years' experience in the heating and cooling industry, and is the trusted name for gas ducted heating installations throughout Melbourne. As a Seeley Climate Master, we have access to exclusive products that many of our competitors do not.
That's how we are able to provide a 7 year warranty on world-class Braemar products; the first company in the world to provide 6 star rated ducted gas heating systems. We believe in delivering the best to our valued clients, which is why we use the trusted name of Braemar to help warm your home.
Get in contact with the team at WeatherWorld today and receive a quote within 24-48 business hours. You'll find our gas ducted heating prices to be incredibly competitive, and our professional and expert services to be second to none!