Keep cool in summer and warm in winter with the help of ducted air conditioning. With units installed throughout your Melbourne home, you have full climate control no matter what room you're in and no matter what the weather is doing outside.
Benefits of ducted refrigerated air conditioning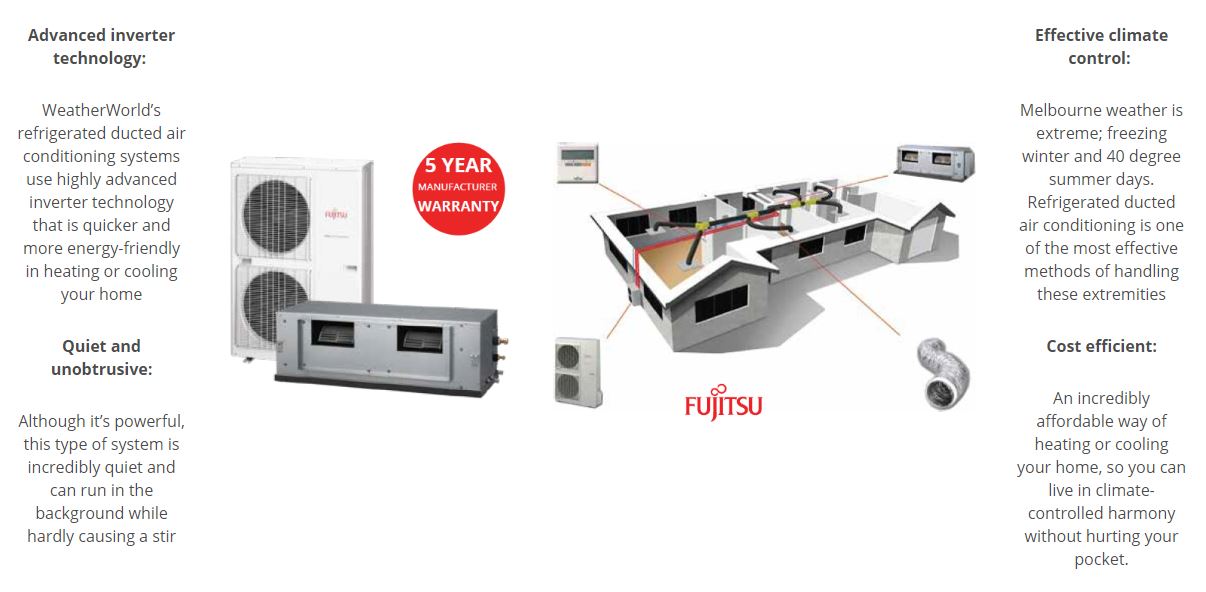 How does ducted refrigerated air conditioning work?
Ducted Refrigerated Air Conditioning keeps you comfortable at home all year long, no matter the weather, by distributing both warm and cool air throughout your home.
Ducted Refrigerated Air Conditioning achieves its primary operating function through a unit known as a condenser which is positioned outside your home, the condenser is connected to a variety of ducts which dispense the refrigerated air across your home through vents. It does all this while filtering and dehumidifying the air.
The air conditioning mechanism is operated through banishing the hot air, and circulating cool air. The heating option is achieved through reversing the operation of the air conditioning function – which helped developed the term of 'reverse cycle' air conditioning.

Trust WeatherWorld for your ducted air conditioning installation Melbourne-wide
To make sure you get the best advice, products, and installation, it's important to get the right team on the job. WeatherWorld has more than 30 years of experience installing ducted air conditioning systems in Melbourne homes, and can offer exclusive products thanks to our appointment as a Seeley Climate Master.
That means we can offer up to 7 years' manufacturer warranties on many of our products, as well as a range that covers the best brands in the industry: Daikin, Mitsubishi Electric, Samsung, Panasonic, Fujitsu, and Toshiba.
To learn more about ducted refrigerated air conditioners, or to get a quote on the cost of a system for your home, get in contact with WeatherWorld today. Our friendly and professional team will get back to you within 24-48 business hours.